I come from a family of "thrifters". I grew up in the same town that my mom, my grand parents , great grand parents, and great great grand parents had lived. If you needed furniture or household items you went and looked in attics, or haylofts. After I moved away, I discovered the joys of Sal's and Goodwill and other thrift stores. I have found many treasures and in my budget! I also love to read, so imagine what fun I had finding this: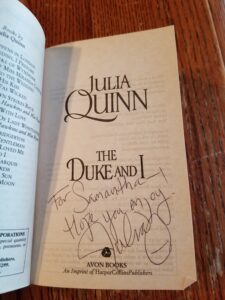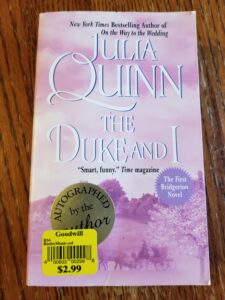 It is the first book in the Bridgerton, series by Julia Quinn, and according to People if it were hardcover would go for a lot more.
The Netflix series based on these books was in the #1 spot, and has been watched by 63 million people. I do recommend watching, it's smart and sexy and beautiful. The cast has been catapulted to the top of everyone's lists ( Including Rege-Jean Page on the future James Bond lists.). And any show with Julie Andrews as narrator is fine with me!
BTW, I have read the rest of the books, and Simon's wasn't even my favorite! Something to look forward to, I hope. Rumor has it they will film #2 starting in March.