The CDC is still recommending we avoid non-essential travel but I know some of you, you're still going. I love visiting Door County, especially Washington Island so I thought I'd toss down some thoughts on some of my favorites, and you can use them whenever you feel comfortable. Some businesses and parks may have alternate hours this year so be sure to check with them before you head. Most of these places have been there for many decades so they'll probably still be around next year, if you feel more comfortable.
Speaking of next year, help make sure Door County can stay open the rest of the summer and for years to come. I've heard from a few sources that Door County and its visitors are doing a decent job when it comes to mask wearing and social distancing. There aren't really chain stores in Door County so these are all Mom and Pop type establishments. BE COOL! If you are heading this year, mask up, be patient, and give people space. Wash your hands, don't touch your face… you know the drill. They don't need you to bring your cooties in and mess it up for everyone. That being said, here's some of my favorite things to do in Door County:
Washington Island
Take the ferry to Washington Island, off the Northern tip of Door County. It's like a small town on a beautiful island and it's amazing.
Rent bikes to tour the island yourselves! Island Rides Bicycle Rental has free Shuttle Service from Island Ferry Dock to the Bicycles & back to ferry, plus road side assistance. Make an overnight out of it and stay at Dor Cros Inn, where you grab your bikes. We've stayed there many times and enjoyed sharing stories at their firepit. Check out other overnight accommodations HERE.
On the north end of the island, check out Schoolhouse Beach. The entire beach is made of beautiful white stones, and the water is so clear! Word to the wise, don't take any stones, it's illegal and you could get fined. Other nature-lovin' spots include: Mountain Park and Lookout Tower, lavender farms, and People's Park (where I took the sunset picture for this article).
There's a golf course, kayak or moped rentals, and some cool museums.
The Albatross is an adorable drive-in and tiki bar with delicious burgers and ice cream, and an awesome retro juke box.
A final Island must is to head to Nelsen's Hall, to join the Bitters Club. Built in the late 1800s, the owner, Tom Nelsen, wanted to keep serving during prohibition so he got a pharmacist license to dispense the 90 proof bitters as a "stomach tonic for medicinal purposes." Nelsen's Hall is the largest purveyor of Angostura Bitters in the world, according to the Guinness Book of Records. Since it stayed open during Prohibition, Nelsen's is officially the oldest legally continuously operated tavern in the state of Wisconsin. Oh, and it's definitely haunted 😉
On your way down the Peninsula, don't miss Bea's Ho-Made Products. While the products I've tried are indeed delicious, the sign makes me laugh EVERY time.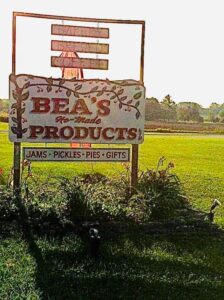 Sturgeon Bay to Bailey's Harbor
First, definitely stay at the Holiday Music Motel! It's an awesome 1950s retro motel (don't worry it still has cable, wifi, and new mattresses) that even has its own radio station. Unfortunately, it looks like their songwriters retreats and live music events are on hold but the breakfast bar should be open!
Door County Coffee & Tea Cafe, just north of Sturgeon Bay, has breakfast and lunch to go with their amazing coffee. If you stop in, don't miss the weird gift section in the back. I don't think that's what they call it, but if you're looking for coasters with sassy sayings and odd kitchen utensils, you're in luck! Also, the bathroom wants you to be the best you can be: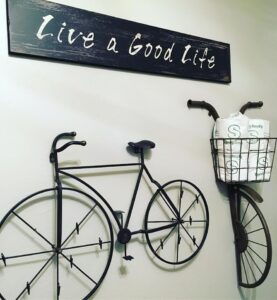 While I believe they're both technically in Jacksonport, Whitefish Dunes State Park and Cave Point are two really cool spots to check out on the East side of the Door Peninsula, just northeast of downtown Sturgeon Bay.

Some favorites in Bailey's Harbor include: The Ridges Sanctuary, Bearded Heart Coffee, and, obviously, Door County Brewing Co. Their beers are delicious, they frequently have live music, and their slogan "Keep Wisconsin Beer'd" makes me giggle every time.
Egg Harbor to Sister Bay
Touring the west side of the Peninsula is a super fun experience and can easily be done in a day if you're in a hurry.
Check out Shipwrecked Brew Pub in Egg Harbor for a great view, solid food, and small batch brewed beers.
Head up to Fish Creek for a ton of unique, walkable shopping, galleries, and restaurants. It's also the south entrance to beautiful Peninsula State Park with camping, hiking, biking, and more.
Where to start with Sister Bay? If I had to pick one reason to visit Sister Bay, it's Al Johnson's Swedish Restaurant & Butik, the place with the goats on the roof. They legit have a Goat Cam! It's been in business and family run since 1949, featuring Swedish cuisine and decor. Here's the latest episode of Your Weekly Dose of Goat:
Lighthouses!!
Y'all, there are so many cool lighthouses in Door County! They even have a Lighthouse Festival in the spring and again in the fall. My favorite so far is Cana Island in Bailey's Harbor, on the east side of the Door Peninsula. A tractor wagon takes you across the water to the lighthouse. If you're daring, walk across. It's cold but an awesome experience!

You can find all this and more on the official Door County Visitor Bureau website.